AmeriDeck Hydraulic Loading System
Amerideck is a hydraulic loading system for pickup truck beds.  It's easily installed on 8ft and 6.6ft truck beds.  A lift arm powered by a hydraulic pump is mounted in the bed of the truck with 1/2 in. grade 8 bolts and thread into 1/2 in. steel plates underneath the truck bed.  AmeriDeck is meant for full size pick-up trucks.  Many custom options are available for each type of AmeriDeck, so call or email us today with your questions about AmeriDeck Hydraulic Loading Systems for truck beds.

AmeriDeck Features
Cargo Deck is 58" x 96"
Hand Control w/ 8' lead
2,500 lbs. Capacity
45 Degree Dump Angle
22 Cubic Feet Storage Under Deck
Powder Coating on Deck & Lift Arms
Grease Fittings on All Moving Parts
No Interference with Hitches
Easy and Quick to Exchange Bodies
AmeriDeck uses high quality components, including a heavy duty DC hydraulic pump, heavy duty wheels, and powder coated components.



Motorcycle Towing System
AmeriDeck Motorcycle Deck is perfect the perfect motorcycle towing system to safely and easily get your bike or chopper from place to place.  No more homemade ramps, dangerous pushing or riding the motorcycle into the bed, or straining your back. Motorcycle towing is so easy with Amerideck because you load and secure your bike at ground level.  The hydraulic system then raises your bike or chopper into the bed of your truck where it's secured.  Remove the risk of getting your motorcycle up into the bed of your truck by using the Amerideck Motorcycle Towing System.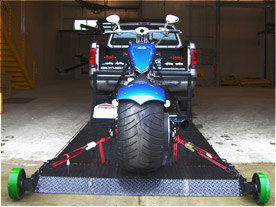 SuperDeck by AmeriDeck
The SuperDeck option for the AmeriDeck hydraulic truck bed system is extremely versatile.  Use it to easily load and unload all types of heavy items.  The 2,500 lbs. payload makes moving heavy items easy.  The SuperDeck is great for governments, rental equipment, and more.


Van Body by AmeriDeck
The AmeriDeck Van Body is perfect for people who need enclosed storage with easy and unloading of heavy items.  The lockable enclosure keeps items safe.


SuperDeck XL by AmeriDeck
The SuperDeck XL was designed to handle bigger items or multiple items that won't fit on the standard SuperDeck.  It's perfect for quads, snow machines, ATVs, Jet Skis, and more. 


ChoreMaster by AmeriDeck
The ChoreMaster is perfect for landscapers, contractors, and anyone that moves materials from one location to another.  Several options for siding, flooring, and more allow you to make it your own.